Hong Kong (CNN)Powerful, domestically-built and in the People's Liberation Army arsenal right now -- China is expected to show off some of the most advanced weaponry the world has ever seen during a special National Day military parade in Beijing on Tuesday, October 1.
About 15,000 personnel, more than 160 aircraft and 580 pieces of weaponry and equipment will be part of the 80-minute procession through the Chinese capital, which will highlight the country's military advances in the 70 years since the founding of the People's Republic of China.
Key among those is
drone technology
-- of which Beijing boasts some of the world's best -- and advanced missile systems.
Maj. Gen. Tan Min, executive deputy director of the Military Parade Joint Command Office and deputy chief of staff of the Central Theater Command of the People's Liberation Army (PLA), said at a press briefing this week that all weapons to be on display were in service and made in China, highlighting the country's ability to innovate in defense research and development.
Here are some of the key items to look out for Tuesday.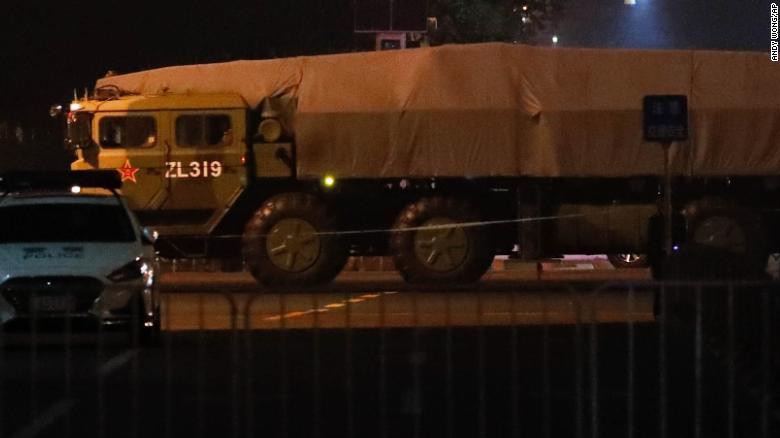 A Chinese military vehicle carrying a ballistic missile participates in rehearsals for the October 1 military parade.
Much of the parade hype has focused on this powerful intercontinental-range ballistic missile, thought to be the mainstay of the People's Liberation Army Rocket Forces (PLARF) arsenal for years to come -- and, by some estimations, the most powerful missile on the planet.
Under development since 1997, the DF-41 was rumored to appear in parades in 2015 and 2017, but instead was kept under wraps.
Rumors that it will get a showing this around were sent into overdrive following reports in China's state media that the missile was spotted during parade rehearsals in Beijing earlier this month.
The Missile Defense Project at the Center for Strategic and International Studies says the DF-41 will
have a range of up to 9,320 miles
(15,000 kilometers), more than any missile on Earth, and will be capable of carrying 10 independently targeted nuclear warheads. From launch in China, it could theoretically hit the continental United States in 30 minutes, the Missile Defense Project says.
Mobile-launched DF-41s can be carried by trucks and trains. Satellite photos taken earlier this year showed DF-41 mobile launchers in the PLARF Jilintal training area in Inner Mongolia, according to the Federation of American Scientists (FAS), which monitors world nuclear arms developments.
Those satellite photos also show what "strongly resembles" a silo, according to Hans Kristensen, director of the Nuclear Information Project at the FAS, who analyzed the images.
Kristensen wrote the possible missile silos
appeared to bear more of a resemblance
to Russian ICBM versions than existing silos for older, liquid-fueled Chinese ICBMs. The DF-41 is solid-fueled, like the Russian missiles. Solid-fueled missiles are easier to deploy and quicker to launch than liquid versions.
The backbone of the United States nuclear arsenal, the Minuteman III missile, is a solid-fueled, silo-based weapon. However, it carries only one warhead, as its original three-warhead design was limited by nuclear treaties with Russia.
China may be ready to deploy the DF-41 in numbers. At least 18 of them appeared to be at the Inner Mongolia training ground in satellite photos earlier this year.
Though capable of carrying 10 warheads, it is likely only three would be on each missile, with the rest being dummy or decoy warheads, according to the Bulletin of the Atomic Scientists (BAS).
Part of that has to do with warhead availability. China's nuclear warhead inventory is estimated at 290 for use on ballistic missiles and bomber aircraft, the Bulletin said in its
2019 report on Beijing's nuclear forces
.
JL-2 submarine-launched ballistic missile (SLBM)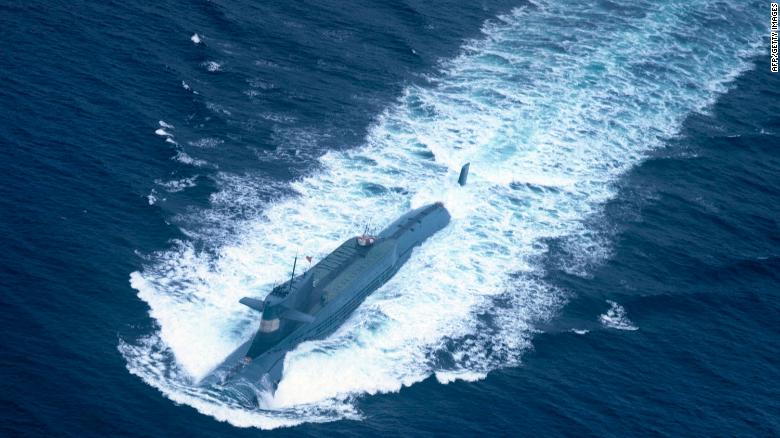 A nuclear-powered submarine of the People's Liberation Army Navy's North Sea Fleet prepares to dive into the sea.
This is the main weapon aboard China's Jin-class fleet of nuclear-powered ballistic missile submarines. Four of the subs are in service, with two more under construction.
Each sub can carry 12 of the single-warhead JL-2 missiles. With an
estimated range of 4,473 miles
(7,200 kilometers), it is regarded as more of a regional than global weapon.
That range puts targets from India to Alaska in range from coastal Chinese waters, the BAS report says. But for it to threaten the continental US, for instance, the subs would have to get past formidable US anti-submarine choke-points around Japan and deep into the Pacific.
A longer-range SLBM, the JL-3, was reportedly tested in late 2018 and again in June this year,
according to Jane's Defence Weekly
, but that missile remains in development and it would be a surprise to see it on October 1.
Still, the Chinese SLBM force falls short of the US. The US Navy's Ohio-class ballistic submarine fleet numbers 14, with each of those subs capable of carrying 20 Trident missiles. Each of those missiles can carry up to 10 warheads.
This is an example of a hypersonic glide vehicle, or HGV. It is launched via a standard missile rocket -- but after reaching the desired altitude, the booster rocket is jettisoned and the HGV carries the missile payload to target.