Hong Kong (CNN Business)Panicked shoppers thronged supermarket aisles, grabbing bags of salt by the armful. They queued six deep outside wholesalers. Most went home with only one or two bags; the lucky ones managed to snag a five-year supply before stocks ran out.
This was China in the days after Japan's
Fukushima
nuclear disaster, when people in cities up and down the country's highly populated east coast
bought
huge quantities of iodized salt in the misguided belief it would protect them from radiation.
The 2011 disaster — the worst nuclear accident in 25 years — threw a major wrench into
China's ambitious nuclear plans
. It sent authorities scrambling to reassure people that they were not at risk of a similar catastrophe and sparked an immediate moratorium on new power plants.
That ban was lifted this year. Now, China is gradually ramping up construction again.
With around a dozen nuclear power plants
in the works
, China will overtake France as the number two producer of atomic energy worldwide within two years. If it continues with its aggressive plan, it will surpass the United States to become number one by 2030.
China is the
world's largest
consumer of energy, thanks mainly to industrial activity. This is only going to increase, with households expected to use nearly twice as much energy by 2040,
according to the International Energy Agency
. At present, some 60% of that energy consumption is powered
by coal. But China is spending heavily on natural gas and nuclear power, as well as renewables — the country accounted for almost
half of all investments
in the latter globally in 2017.
Beijing's outward enthusiasm for nuclear energy masks a multitude of challenges facing China's atomic plans.
Surveys and protests against proposed nuclear plants suggest ordinary Chinese are a lot less enthusiastic about nuclear power than their leaders are. The potential ramifications of a nuclear disaster in the world's most populated country are stark, to say nothing of economic or environmental fallout. And while China's nuclear industry has a
strong safety record
— and domestic regulations have tightened since Fukushima — some fear corruption and supply line issues could undercut these efforts.
Nuclear is also not the attractive clean energy solution it once was. In the years following the Fukushima disaster, renewable energy such as solar and wind have plummeted in price thanks in part to heavy Chinese investment, while new safety standards have driven up the cost of nuclear power.
"For a long time, China was basically subsidizing the (nuclear) industry, and now they're trying to put it on a market footing," said Miles Pomper, a Washington-based expert in nuclear energy at the James Martin Center for Nonproliferation Studies.
"When you do that, oftentimes it doesn't meet the market test, especially competing with wind and other kinds of power."
China's National Energy Administration and Atomic Energy Authority did not respond to requests for comment for this report.
Nuclear panic
The Fukushima disaster was a shocking wake-up call to all countries with coastal nuclear plants. It raised concerns that other plants could be vulnerable to tsunamis and other extreme weather.
On March 11, 2011, a 9.0-magnitude earthquake
rocked Japan
. It permanently moved the country's main island, destroyed buildings, and raised a tsunami up to 40 meters (131 feet) high, which crashed into the country's east coast.
Within 50 minutes of the initial earthquake, the first wave crested the Fukushima Daiichi nuclear plant's 10-meter (33 foot) sea wall. The plant's emergency power generators were soon flooded, knocking vital cooling systems offline and causing reactor fuel rods to begin to meltdown and leak deadly radiation into the surrounding area.
It was the worst nuclear disaster since the 1986 Chernobyl meltdown. More than 300,000 people were evacuated from the area around the Fukushima plant, and many will never be able to go home. Clean up operations,
estimated
to cost upwards of $50 billion, are still ongoing.
The sudden aversion to nuclear energy reached China, where the State Council immediately suspended approval of nuclear power projects and ordered a comprehensive safety inspection of all existing facilities. New regulations were passed, including the 2020 Vision for Nuclear Safety and Radioactive Pollution Prevention, which set safety standards and inspection goals, as well as a Nuclear Safety Act that went into effect last year.
In particular, according to a report by the International Atomic Energy Agency (IAEA), new power supplies and water pumps were issued to all Chinese nuclear plants to protect against the flooding and power loss suffered at Fukushima. New emergency response protocols were introduced, including the need for emergency response drills.
The effect of the disaster on China's domestic nuclear industry has been profound. Some semi-official projections that China might have more than 400 nuclear plants by 2050 "have been cut in half," according to Mark Hibbs, an analyst with the Carnegie Endowment and co-author of "
Why Fukushima Was Preventable
."
The failure of Japan, "one of the world's most technologically equipped and experienced" countries as regards nuclear power, raised serious questions as to whether China too was vulnerable to a serious accident, Hibbs wrote in a report on the country's nuclear industry last year.
Despite China's efforts to alleviate public concern after Fukushima with a moratorium and new safety checks, support for nuclear energy remains tepid at best and outright hostile at worst.
"The evidence over six decades shows that nuclear power is a safe means of generating electricity," according to the WNA. "The risk of accidents in nuclear power plants is low and declining."
The WNA estimates that around 11% of the world's electricity is generated by about 450 nuclear power reactors. Some 60 more reactors are under construction around the world.
"It is almost impossible that a Fukushima-style accident will happen in China," Xue told state-run broadcaster CGTN in May.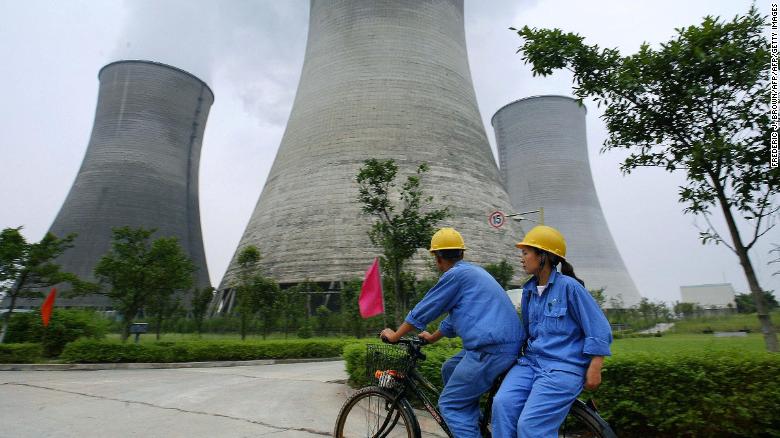 Workers cycle past power stations in Guangan, in southwest China's Sichuan province.