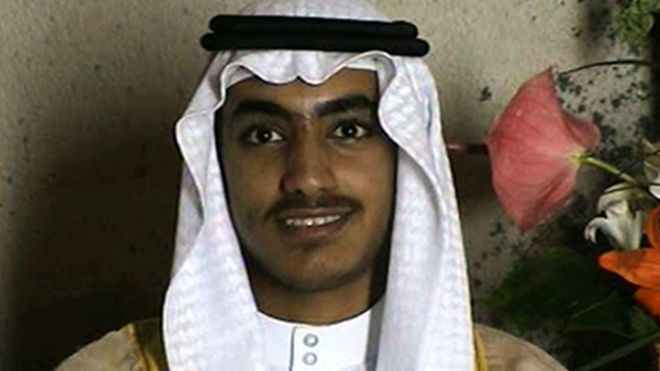 US President Donald Trump has confirmed that Hamza Bin Laden, the son of al-Qaeda founder Osama Bin Laden, was killed in a US operation.
He was officially designated by the US as a global terrorist two years ago.
He was widely seen as a potential successor to his father. Thought to be about 30, he had sent out calls for attacks on the US and other countries.
"Hamza Bin Laden, the high-ranking al-Qaeda member and son of Osama Bin Laden, was killed in a United States counter-terrorism operation in the Afghanistan/Pakistan region," Mr Trump said in a brief statement issued by the White House.
"The loss of Hamza Bin Laden not only deprives al-Qaeda of important leadership skills and the symbolic connection to his father, but undermines important operational activities of the group."
The statement did not specify the timing of the operation.
Hamza Bin Laden was seen as an emerging leader of al-Qaeda. It was reported in August that he had been killed in a military operation in the last two years and the US government was involved, but the exact date and time were unclear.
Al-Qaeda: The basics

Osama Bin Laden near Kabul in 2001
Emerged in Afghanistan in the late 1980s, as Arab volunteers joined US-backed Afghan mujahideen fighting to expel the occupying Soviet forces
Osama Bin Laden set up an organisation to help the volunteers, which became known as al-Qaeda, or "the base"
He left Afghanistan in 1989, returning in 1996 to run military training camps for thousands of foreign Muslims
Al-Qaeda declared "holy war" on Americans, Jews and their allies